Update 4/26/14: Big fixes are coming to fishing, according to the 1.1 Patch Notes from the PTS server. Stay tuned, this guide will be updated accordingly.
I could really use a vacation. I mean, I know there's this whole triple world war thing going on, and tensions seem to be pretty high all around, but I've kinda been single-handedly winning this entire war for the Ebonheart Pact over here with all my heroic acts and disturbingly frequent acts of triple arson I keep performing behind enemy lines. Come to think of it, I've burned, like, a shitload of people to death. With magic fire. Man, how many people have I burned to death with this magic fire? A hundred? A thousand? I've become some kinda magic-fire-burning-people-to-death monster... I really need to get away from all this BURNING PEOPLE TO DEATH WITH MAGIC FIRE. I mean, I can't just keep spending all my free time making new staffs for the sole purpose of burning more people to death with more magic fire. That's kind of psychotic.


I should go fishing.

- Azarath Ral'luul, Level 15 Dunmer Dragonknight
Let me start off by saying that fishing in Elder Scrolls Online is, for lack of a better term,absolutely worthless. As it stands right now, fishing in Elder Scrolls Online is broken; or, put more politely, incomplete.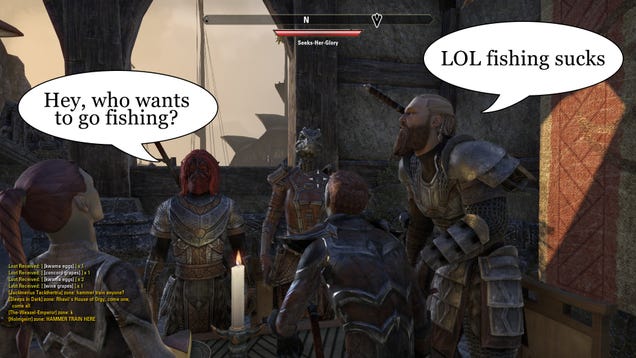 EXPAND
Why is Fishing Worthless and/or Incomplete, Doc?
Once upon a time, fishing was going to be a compliment to the provisioning system, with the fish you catch serving as ingredients for recipes to create food that would give you buffs. According to some random person the internet, they took all that out way back in the early stages of the beta, even though those fish-as-ingredients still exist in the data-mined archives of ESOhead.
So, what is fishing good for, if not for ingredients for tasty snacks like "slaughterfish boil" or "breaded trodh"? Not much, really. Some people have suggest fishing is a quick and easy way to make money. These people are dirty, god damn liars. The majority of fish you will catch will be worth 3 gold, with the rest being bait to catch other fish with. When you get lucky and catch a rare fish, you'll get an achievement, but the fish itself is bugged, and will not show up in your inventory. Occasionally, you'll catch a wet gunny sack, which is a container that holds a couple crafting materials like racial stones or runes stones or trait stones or even a temper. But that's it.
So why would anyone waste time on fishing? I have no idea, and yet I have spent probably more time than anyone in the game (that I know of), figuring out it's dirty little secrets. After creating daily fishing reports on Imgur and posting them on Reddit as a joke, less than a week later I'm now the leader of a 130-plus-man-woman-mer-womer(?)-catman-catlady-lizardperson guild of like-minded individuals. And this is more incredible when you consider the fact that Reddit is full of some of the worst assholes you'll ever meet in your entire life. And going into ESO, I thought I wouldn't have any friends to play it with, and I'd probably drop my subscription after a couple of months - and yet now I have this guild full of totally chill, laidback individuals who just want to have a good time and do some PvF (Player-versus-Fish). All from this horrible, worthless, no-good, broken fishing system.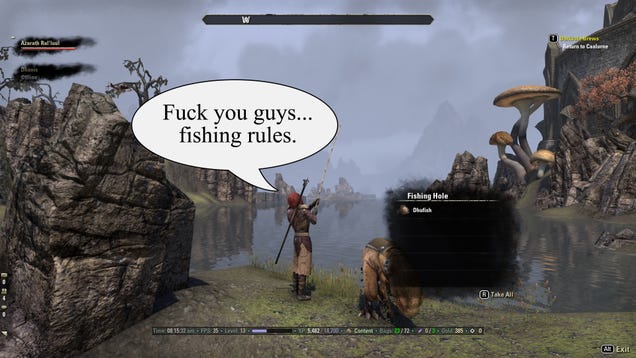 Basic Fishing Mechanics
Fishing is simple enough to do: it requires no skill points, as it has no skill tree, and no equipment, as the rod magically appears in your hand when needed. All you need is to find some bait and a fishing hole.
A fishing hole will be a puddle of fish splashing around in the water. When you find a fishing hole and look at it, you'll be prompted to hold down E to select a bait.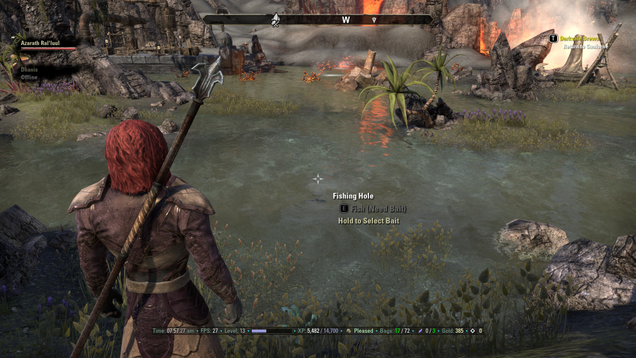 EXPAND
A wheel will pop-up, not unlike the quick item wheel, and whatever bait you have in your inventory will appear in one of the 9 bait slots.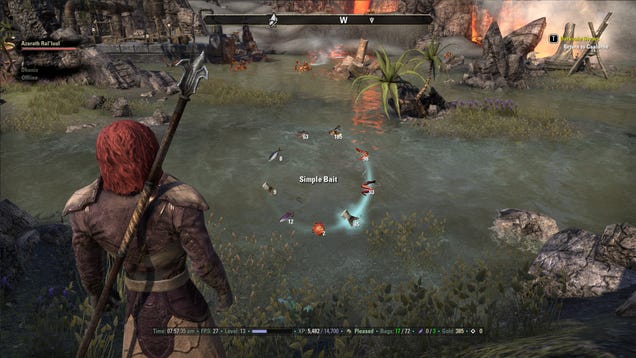 EXPAND
Once your bait is selected, when you mouse over the fishing hole again, you will be prompted to hit E to cast your line. And then you wait...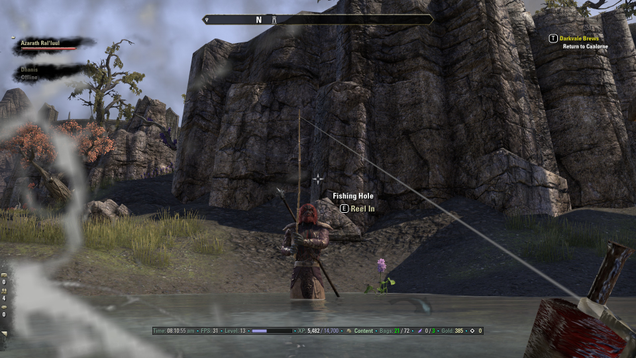 EXPAND
Somewhere between 10 and 25 seconds later, a fish begins tugging on your line. You have a couple of seconds to hit E again to reel it in. If you don't hit E, you'll lose the fish and waste your bait. But if you do hit E in time, as long as auto-loot is turned off (turn off auto-loot before you go fishing, trust me), you'll see a loot box pop up with one of two things in it:
A) used bait (failure)
or
B) anything else that's not used bait (SUCCESS!)
Sounds easy enough, right? Well, that's just the beginning.